Hong Kong gangsters' business said to fall 40% amid protests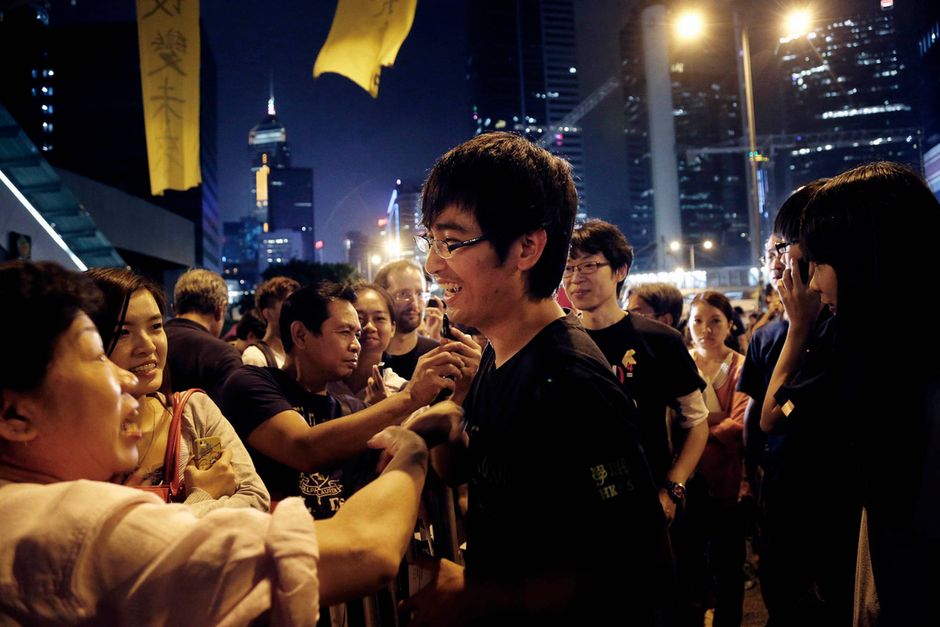 HONG KONG
As thousands of pro-democracy protesters thronged Hong Kong's major retail and business districts, blocking roads and forcing shops to close, it may not have been just legal establishments feeling the pain.
Business for Hong Kong's gangsters fell "about 40 percent" in the days after the occupation started on Sept. 28, according to a man who gave his name only as Ah Lik and said he was a district head of the 14K, one of Hong Kong's three largest organized crime outfits, known as triads. He referred to the takings of various triad-related rackets across the city but declined to give further details.
The protests brought to light how far the triads will go to protect the underground economy they dominate in places such as Mong Kok in Kowloon, a vice-prone area across the harbor from central Hong Kong that bustles with hawkers and food stalls. With student-led demonstrators occupying some of Mong Kok's streets, disrupting businesses, scuffles broke out on Oct. 3 as groups of men punched, kicked and abused protesters.
Police initially arrested 20 men over that night, including eight suspected of triad membership. All eight were released on bail pending further investigation, Hui Chun-tak, chief superintendent of the police public relations branch, said at a briefing Oct. 8.
"Mong Kok is built on vice -- brothels, nightclubs, -- blokes going in these establishments don't like to be seen -- this just disrupts the whole business," said Martin Purbrick, a former detective who served from 1988 to 2000 in the Hong Kong police intelligence bureau investigating organized crime.
Like underground businesses, companies across the city lost money because of the protests, with sales at small-to-medium- sized companies falling as much as 80 percent between Oct. 1 and Oct. 5, the Hong Kong Retail Management Association said in a statement. Those operating in the Mong Kok, Causeway Bay or Tsim Sha Tsui shopping areas occupied by protesters were hurt the most, it said.
Apple Daily, a Hong Kong-based Chinese language newspaper, reported Oct. 7 that members of the Wo Shing Wo gang associated with known-triad leaders "Shanghai Boy" and "Kiddo" were among those involved in the Mong Kok attacks. The paper cited people familiar with triad activities.
The Wo Shing Wo gang is one of the most active in Mong Kok, according to Purbrick. The 14K, to which Ah Lik claimed membership, takes its moniker partly from the symbol for karat gold, according to Henry Prunckun, writing in "Organized Crime: An International Encyclopedia." The other main group is the Sun Yee On.
Protest leaders sought to tie the Mong Kok attacks to a nexus of gangs, police and the local government -- and by inference the central administration in China.
"The government and police have allowed triads and thugs to use violence to attack peaceful protesters, cutting off the road to any conversation," the Hong Kong Federation of Students said in a posting on its Facebook page titled "Road to Dialogue Must be Shelved."
Hong Kong police "resolutely" deny allegations they worked with triads, Senior Superintendent Kong Man-keung said Oct. 3.
Ah Lik, who put his age at 40, said while his territory was primarily on Hong Kong island, it's "impossible" that police would join forces with gangsters. "There are some people who like to take advantage of the chaotic situation," he said, without elaborating.
Though triads are often depicted as highly organized units with vast business interests and links to the police and government, the reality is different, according to Roderic Broadhurst, a professor of criminology at the Australian National University in Canberra, who has written about the so-called Dark Societies.
"A lot of them are young disadvantaged kids, who join gangs and call themselves triads," he said. "The old fraternal brotherhoods, offering mutual aid and so on remain in the background." Triads tend to prosper when offering protection in illicit markets such as drugs, underground gambling, child pornography and debt collection, he said.
Broadhurst estimates triad membership in Hong Kong may have dropped from about 55,000 in the 1970s to 30,000 or fewer now, "though those numbers are very rough."
There were 2,035 reports of triad-related crimes in 2013 with 2,844 people arrested, Hong Kong's police public relations branch said in an e-mailed response to questions. The police didn't provide current triad membership estimates.
The role of triads in Hong Kong was most pervasive in the 1960s and 1970s, when corruption in the police force was so bad that popular protests led to the creation of the Independent Commission Against Corruption in 1974, Broadhurst said. Since then, with the police force cleaned up and anti-triad legislation enforced, some gang-related business has migrated to areas such as southern China.
After gangs provided assistance smuggling out leaders of the 1989 Tiananmen Square protests, and in the lead up to Britain handing back administration of Hong Kong to China in 1997, China applied a "united front" strategy to recruit Hong Kong triad societies to the Communist camp, according to an April 2010 article by T. Wing Lo, a professor at City University of Hong Kong. Lo declined to comment for this article.
The first triad was a patriotic secret society formed in the 17th century to overthrow the Qing dynasty, which had been founded by Manchu invaders, and to restore the native Han Chinese Ming dynasty. By the beginning of the 19th century, the group had disintegrated into gangs operating independently all over China.
Initiation ceremonies would reference these origins, according to a display at the Hong Kong Police Museum that shows a reproduction of a triad altar, alongside a photo of one taken in the 1950s.
On a textile sheet known as the "yellow gauze quilt" pinned to the altar are the names, dates and places of birth of initiates. Two lines spell out "white peony blooming" and "red peony budding," signifying that while the Qing dynasty, or white peony, is flourishing, the Ming, or red peony, will soon recapture glory, according to the caption at the museum. Initiates would also swear 36 different loyalty oaths.
Triad initiation ceremonies faded as Hong Kong police stepped up efforts in the 1970s to enforce legislation that make it an offense to be in possession of "any books, accounts, writing, lists of members, seals, banners or insignia of or relating to any triad society."
"What is happening now is that the triads are becoming disorganized, less cohesive than before," said Sharon Kwok, a triad researcher at the City University of Hong Kong.
Since the handover, triad societies have also faced greater competition, Kwok said.
"Mainlanders have a better source and supply of girls since the handover, so it's more competitive," she said. "Drugs as well. Heroin was a major business, but now it's drugs like ketamine and that's made in China."
Gang member Ah Lik, said his job involved "debt collection and looking after accounts," and added he was initiated into his gang at 12.
"My schoolmates joined, so I joined," he said. "I was a kid."
(c) 2014, Bloomberg News