When does a day's work end?
Supreme Court to decide billion-dollar question.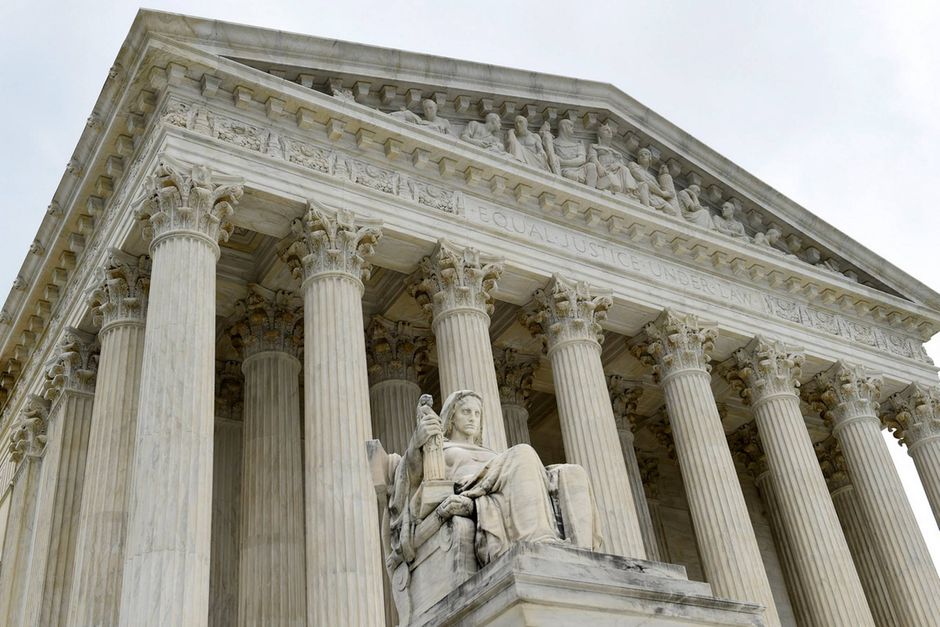 Nearly 80 years ago, Congress set a few simple rules for how workers should get paid. Employers and their employees have been warring over them ever since.
The latest battle, which goes before the U.S. Supreme Court on Wednesday, was launched by former warehouse workers for Amazon.com, who argue they should have been paid for the time they spent waiting in security lines after their shifts. The case could have massive implications — not just for one of the world's largest retailers but for employees everywhere — in further defining how companies across the country should pay for a day's work.
The warehouse workers' case has also helped highlight the strangely hazy precedent governing when American workers have a right to make money. Walking from your car to the workplace? No pay. Waiting for clearance before going into work at an airport or nuclear-power plant? No pay. Putting on protective gear before you start work in, say, a meatpacking plant? Pay.
"These issues have been percolating for 80 years," said Paul Secunda, a law professor and director of the labor and employment law program at Marquette University Law School. "Think about every day for 25 minutes, thousands of employees going through a security line. Think about what they make an hour. ... Now we're talking about thousands of employers, with even larger workforces, who pay even more money. We're talking about billions and billions of dollars. This is a very big deal."
The Amazon case was filed by former workers at its sprawling fulfillment centers in Nevada, whose jobs included grabbing items from shelves and packaging them for delivery. After clocking out at the end of their shifts, they were expected to empty their pockets and walk through metal detectors to prove they weren't stealing from the warehouse.
Those security lines could take more than half an hour, the workers said, and that was time when they should have been getting paid. Since 2010, more than 400,000 workers have filed a dozen class-action suits arguing they're owed hundreds of millions of dollars in damages.
Their case, they argued, was clear-cut: The company required employees to pass through the screenings — meant to catch "shrinkage," the industry term for workplace theft — making it an unavoidable part of their work.
Employees also complained that the contractor could have easily sped up the waits by opening up more security lines, but they had little incentive to do so, because they weren't paying for workers' time. One example: Say an office on the 20th floor had one elevator, and workers on the clock had to wait 30 minutes to get to their desk. How long would it take, Secunda wondered, for the workplace to fix that delay?
But Integrity Solutions Staffing, a staffing agency for Amazon, has argued in court briefs that the lines are just like any other workday annoyance that employees don't get paid for: waiting to punch in the time clock, walking into work from the parking lot, or waiting to pick up a paycheck.
Integrity attorney Paul Clement has argued that "in the post-9/11 world, security screenings have become ubiquitous in the American workplace" and are a routine requirement for employees in skyscrapers, courthouses, sports arenas, theme parks and dozens of other workplaces. A ruling for the Nevada workers, he said, would open "employers up to billions of dollars in retroactive damages."
Attorneys also threw out some hypothetical "minor day-to-day inconveniences" — a workplace in a busy downtown, on the 50th floor of a skyscraper or at the back of a big parking lot — in which employers would not be on the hook for "mandatory, government-imposed compensation."
"The Court should reject Respondents' astonishing assertion that the security screenings were integral and indispensable to their job duty of 'not stealing,'" attorneys wrote. "No court has ever held that 'not breaking the law' is a principal job activity for which compensation must be paid."
If the Supreme Court sides with the workers, the case — Integrity Staffing Solutions, Inc. v. Busk — would move forward in federal court.
Amazon said it would not comment due to the pending litigation, but a spokesperson said the "data shows that employees walk through post shift security screening with little or no wait." (Amazon.com chief executive Jeffrey P. Bezos owns The Washington Post.)
The debate facing the court begins with the Fair Labor Standards Act of 1938, which set a minimum wage and required paid overtime if employees worked more than 40 hours a week. Early interpretations of the act held that employees should be paid for all time spent on the employer's premises, even if they weren't really working. That, economists said, led employees to flood the courts seeking back pay for, in some cases, walking to their work stations from the company gates.
In 1947, Congress passed the Portal-to-Portal Act to further define whether work done before or after a shift qualified for pay. Less than a decade later, a Supreme Court ruling sharpened it even more, saying employers should only pay workers for doing things that are "integral and indispensable" to their primary duties.
The Supreme Court has ruled that workers showering and putting on and taking off protective gear at a car-battery factory should be paid for that time because cleaning off all the poisonous acids was crucial to their work. In a similar "donning and doffing" case, judges ruled that putting on protective gear for work at a meatpacking plant should count as paid time not just because it's required under the job duties but because it also benefits the employer, by preventing workplace injuries and contamination. They've also ruled that butchers sharpening knives at a meatpacking plant are owed wages for that time, since having a good blade is indispensable to their work.
But not every case has been so well-defined. Judges agreed that workers at a nuclear power plant shouldn't get paid for waiting through security lines because those measures were required of everyone, not just workers, who entered the plant. Judges handed down the same ruling for contract workers at an airport construction project seeking pay for their waits in security lines.
Rulings so far have done little to lessen the divisiveness between employers and their workforce. Federal wage and hour lawsuits filed under the Fair Labor Standards Act cases have more than doubled over the last decade, according to law firm Seyfarth Shaw.
Amazon is not the only corporate giant to come under fire for its unpaid security checks. Tens of thousands of workers sued Apple last summer because the tech giant required hourly employees at its retail stores to submit to bag checks after they clocked out. Workers at J.C. Penney, Ross Stores and CVS Health have filed similar suits.
"It's really illustrative of what's happening in today's workplace," said Bob Bruno, a professor and director of the labor education program at the University of Illinois. "The balance of power in the workplace has changed. ... There is just this pushing of the envelope all the time, and a certain level of employer flexibility on the right to manage a workplace has somewhat run amok."
Robert Reich, a public-policy professor at the University of California, Berkeley, and former labor secretary under President Bill Clinton, said the nuances governing when a paid work day begins and ends have become much more complicated. Workplace security screening has increased, and more jobs — including in sanitized or dust-free areas for medical or high-tech work — now thrust employees into a quasi-period somewhere between life and work.
But the issues at stake, Reich said, are as simple and important as they were 80 years ago.
"Companies are under huge pressure to squeeze costs, and labor is the biggest single cost," he said. "The issue is the extent to which employers can impose more and more requirements. There's a slippery slope. If the protection is for the employers, and it takes half an hour (unpaid) today, what's to stop an employer from requiring two hours tomorrow?"
(c) 2014, The Washington Post